"What fabulous treatment one receives at Only You Skin!
Nicky is a fantastic beauty therapist, friendly, thorough and a person of true integrity. With her salon situated in a beautiful setting, one can truly relax and feel like the time you have there is all about you! The treatment rooms are beautifully decorated. With relaxing music and an outlook onto the bush, one can relax in style.
I have had a number of treatments from Nicky in her salon and if you are looking for treatments well worth the dollars which are very reasonably priced; to come away feeling pampered, well looked after and relaxed then Only You skin is the salon to go too. I highly recommend Only You Skin! " Alison Hotene
"To have a treatment with Nicky at Only You Skin is a real treat, and comes highly recommended! Nicky is very professional and the surroundings in which she has her clinic makes you feels so relaxed. More often than not I fall asleep during my treatments.
Her attention to detail is exceptional, and with her caring personality she certainly makes you feel special. She is truly there just for you.
She will suggest to you the best type of treatment that is suitable for your skin type. She will also suggest a follow-up at home treatment programme to help you achieve the results you want.
Having a medical condition and on a regime of medication, Nicky is working very hard at making sure my skin is getting the nourishment it needs. Thank you Nicky". Denise Lyall
"My skin has shown a vast improvement in texture since I've had the regular treatments at Only You Skin. Milia is something of the past. During treatments I'm made to feel like a queen and have realised that the facial benefits my whole being. My friends have asked me which face care product I use and I had to admit that products on its own cannot do it all. Highly recommended! " Esme Coetsee
"I started using the Cosmedix skincare range 6 weeks ago and have already noticed a difference in my skin. I have a problem skin and struggle with blotchiness and a very dry skin. Since using Cosmedix, the redness has reduced significantly and the Hydrating Emulsion has improved my skin dryness. I feel that my skin is being nourished and that the Hydrating Emulsion and Hydrate+Day cream is having a long term effect through the day. I love going to Only You Skin and feel completely pampered and treated." Retha van Rensburg
"Thank you for your email and checking up on me"

The waxed areas are totally fine and I have to say again how painless it was and how you have re-newed my faith in waxing again.
Thanks again for a very enjoyable pampering session, you're so great at what you do and I LOVED every second of it" Emily Procner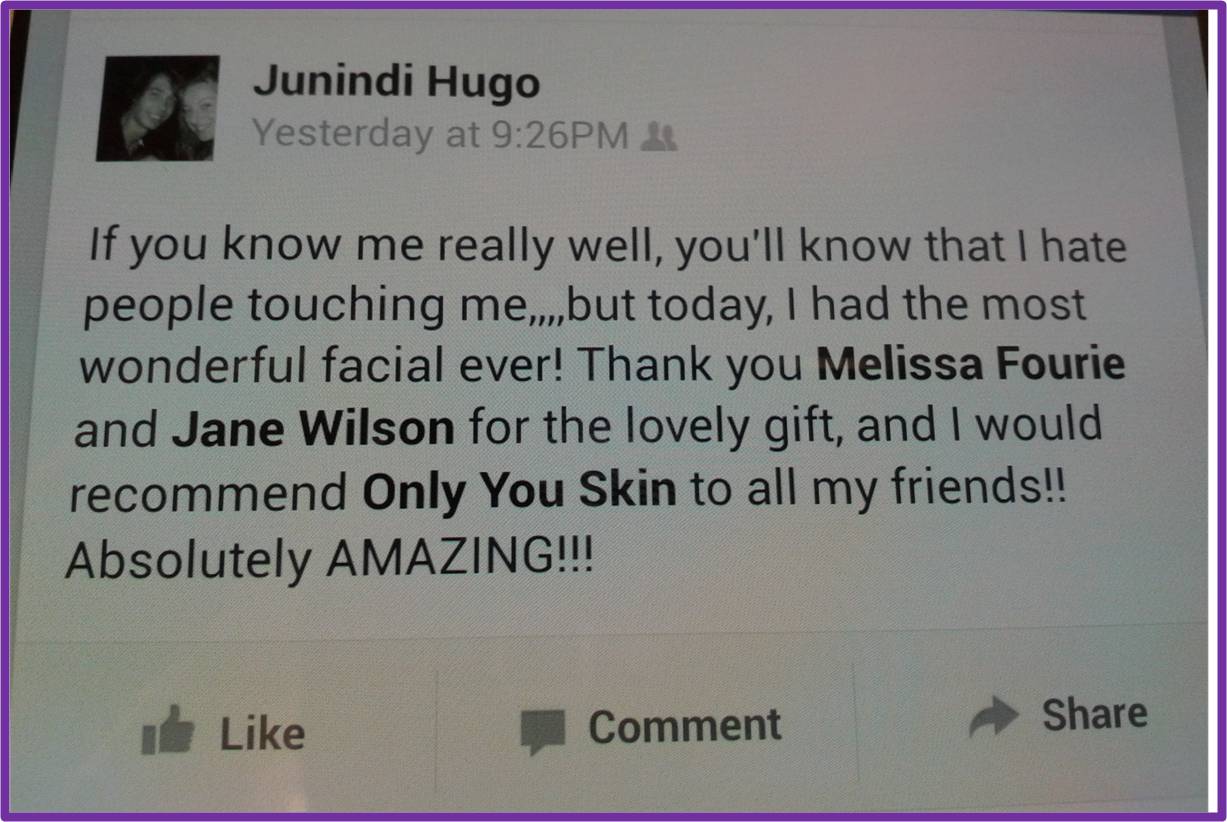 "Gister jou voucher in die pos gekry – dis soooooo mooi!!! Baie baie dankie. Uhm, ek kon nie 'n beter geskenk vir Cathy gekry het nie – sy was so opgewonde toe ek haar gister daarvan se." Petro